You now can get a sandwich from Rambo – Texarkana Gazette
TEXARKANA, Ark. — Rambo has set up shop in Texarkana, specifically, Rambo's Deli & Tobacco. Located on 9th Street in the former Grammarly's Grocery Store, the new store offers fresh deli sandwiches, including for breakfast, salads, convenience store goods, and of course, tobacco products.
According to Moses Raph, owner and manager, Rambo's is a family enterprise.
"This is a family business," he said. "My father is also an owner, but I manage the place."
Fresh sandwiches are the highlight of their deli menu.
"The philly cheese steak is a crowd favorite already," he said. "Our cold cuts and fresh salads also are getting lots of business."
This is not the first business of Raph's family. According to him, the family owns small businesses like this in several Arkansas towns. But they have been planning this business since the Grammarly's owner sold the property.
"We bought it up immediately, then took our time in getting this business ready," he said. "This is a good location, with lots of potential."
Rambo's Deli & Tobacco has been open for a little over a month.
"People here still remember Grammarly's," he said. "So another store where they can get groceries, plus something extra, is a good business to have here."
As to why the place bears the famous face of Rambo, altered to look like he is packing a sandwich, Raph says he is a fan.
"I love the Rambo movies," he said. "Big fan of Sylvester Stallone."
(Rambo's Deli & Tobacco is located at 2002 E. 9th St., Texarkana, Arkansas. They are open 7 a.m. to 11 p.m., seven days a week.)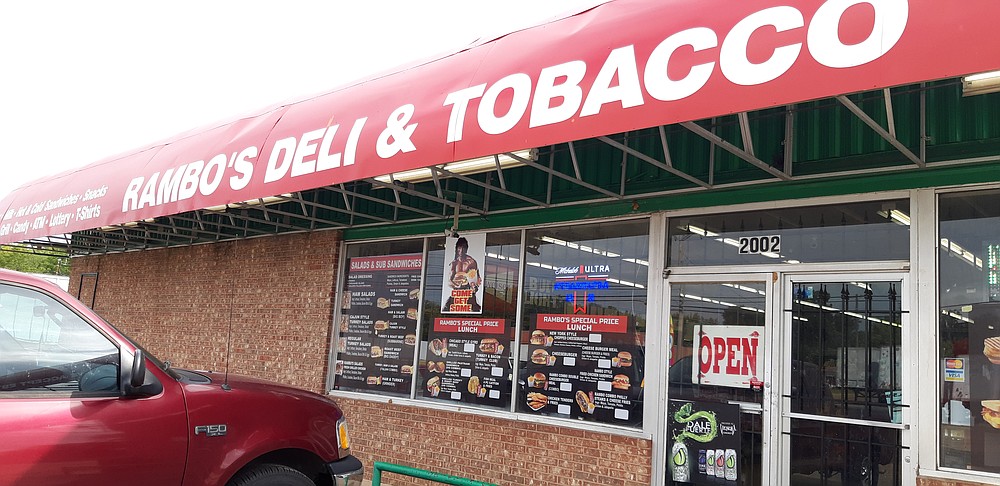 (Staff photo for Junius Stone)