Plein air painters translate words into art | Arts | jhnewsandguide.com – Jackson Hole News&Guide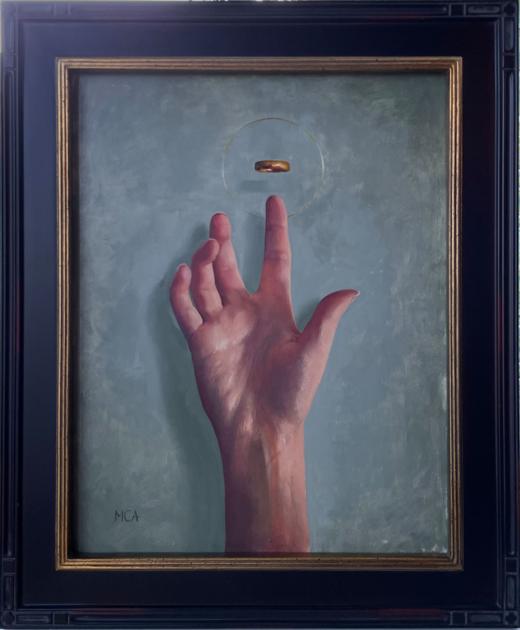 Teton County Library is showcasing the "From Page to Canvas" exhibition through Nov. 15.
The exhibit invited local artists from the Teton Plein Air Painters to turn their brushes from the world their eyes can see toward interpreting their favorite written works.
The goal, library staffers said, is to encourage library users to dig deeper into the collection and read a book they may have never considered before.
Leah Shlachter, adult program coordinator at Teton County Library, hopes the exhibit will enliven the imagination and create discourse while providing a new avenue for patrons to experience and interact with the library collection.
"In poetry, we call it ekphrasis, when you write in response to a work of art. I think the same term can be used to create visual art in response to the written word," Shlachter said. "Responses of art to the written word can range from description, to challenging and questioning the text, to creating a conversation with it, to imagining what's left off the page. But I think that's what both writing and visual art does: trigger the imagination and create discourse."
Patrons are invited to participate in and respond to the exhibit by adding their own drawings to the bulletin board set up in the gallery.
Jen Hoffman is the gallery coordinator for the Art Association and helped coordinate the exhibit at the Library with the Teton Plein Air Painters, a local group of artists who share a love for painting the landscape outdoors.
"The exhibit came about because one of painters of TPAP, Lisa Ridgway, had this idea and we all thought that it was a really cool idea," Hoffman said. "TPAP has had exhibits at the library over the years, and it was a nice way to connect what everyone in the artist group does with the awesome collection at the library."
The Teton Plein Air Painters meet each Tuesday from May to October to draw and paint out-of-doors in the Jackson Hole environs. Founded in 2012 by two people who were committed to practicing plein air painting, it currently totals more than 130 artists and continues to welcome others to participate without any required fees or dues. Members can expect an active venue for artistic camaraderie coupled with critiques to support technical growth.
The communication list, which announces the weekly painting locations, is facilitated by Kay Modi, whose work is also included in the exhibit. Modi used "From Page to Canvas" as a chance to display a piece she painted a few years ago that she never previously had a chance to show, an abstract inspired by "Alice in Wonderland," one of her daughter's favorite books.
"What I liked about it is I could recognize the styles of people when we'd paint together and they brought part of that into their paintings," Modi said. "But they also took their own style and found a vision from the book. So even though we're together as plein air painters and we try to keep our work grounded in the outdoors, everybody has other art styles. Some of the artists that are in there love doing architectural painting, some abstract like I do, so it gives our group a chance to stretch and bring out our personal stories."
While the exhibit allowed the Plein Air Painters to stretch themselves creatively, allowing a breath of fresh inspiration into their personal artistic styles, Hoffman hopes it also inspires the public to step out of its comfort zone.
"Each artist wrote a little blurb about why they chose the book and how it inspired the art, so I'm hoping that people are inspired to check out a book that maybe they wouldn't normally check out," Hoffman said.
The public is also invited to meet the artists at a reception set for 4-6 p.m. Oct. 19 in the library display area. Work exhibited will be for sale through the individual artists. For patrons unable to make it into the library, a virtual tour is available on the library's website TCLib.org/1425/Whats-in-the-Gallery.