Local volunteers translate COVID-19 information for immigrant community – The Breeze
Harrisonburg translates COVID-19 regulations into various languages
One hundred fifty thousand people reached through Facebook, 46,000 through direct flyers and 15,000 through school lunch flyers — that's the estimate of how many non-English speakers Harrisonburg reached in its campaign to translate messages about COVID-19 into six target languages: Spanish, Arabic, Kurdish, Russian, Swahili and French.
For the past 18 months, that's how Harrisonburg has attempted to keep its immigrant and refugee communities informed about the pandemic — through a small team of local volunteers who headed the effort to disseminate public health information to non-English speakers through flyers, social media, infographics and videos.
Mass community effort
Nasser Alsaadun is an active member of his community. He teaches Arabic at JMU and Bridgewater College, and he serves on the Welcoming Harrisonburg council, which helps immigrants and newcomers get settled in the area.
Alsaadun said that at the beginning of the pandemic, Harrisonburg administration came to the council and asked them to help translate flyers about COVID-19 into other languages. But Alsaadun took the idea a step further: He suggested dispersing the translated information through social media and videos.
"I suggested to have us as interpreters to go directly to the community and record these messages in our languages and post it in different ways using the social media," Alsaadun said. "It worked — it was very great. People were listening, and it had quite an impression on the community."
After assembling the Rapid Response Team — a local group of unpaid, volunteer translators and interpreters — the city got to work.
Michael Parks, Harrisonburg director of communications, said the Rapid Response Team was on call to translate new announcements and regulations. They usually translated the messages into the six target languages within a couple of hours. Then, the city would place the information into graphics, social media posts and flyers.
Harrisonburg speaks over 60 languages, Parks said. The city narrowed its focus to six target languages by looking at each language's popularity in the area, as well as where COVID-19 cases were increasing. French initially wasn't included, but because many people from Africa speak it as a second language, Parks said, it was more efficient to translate messages into French than several different African languages.
Parks also said it was important that members of the community volunteered to translate, interpret and knock on doors. Because Harrisonburg is a large refugee resettlement area, Parks said, there are many people who come to the city from places where they've learned not to trust governmental actors.
"[If] someone in uniform is to knock on the door, there's plenty of reasons for an individual not to trust that person, not to open that door," Parks said. "If it's someone they know … that is reaching out to them, it's really proven to be beneficial in helping get that message out to as many different people as possible."
As for spreading the information, social media wasn't Harrisonburg's only method of getting the word out. The effort included phone calls, weekly email blasts, advertisements on city buses, Spanish radio commercials and a multilingual resource page on the city's website, according to a video made last year. City staff also placed nearly 15,000 flyers in school lunch bags, hung about 46,000 flyers on people's front doors and provided extra interpreters at Virginia Department of Health (VDH) COVID-19 testing events.
One team member, Sylvia Whitney Beitzel, is a professional Spanish translator. Until last July, she worked as a home-school liaison for an elementary school in Harrisonburg, where she facilitated communication between the school and non-English speaking families. During the switch to online learning, she said, she recognized a need in the immigrant community for local updates.
"Part of the gap, in a way, was talking to parents and realizing how little information non-English speakers had about [COVID-19] in general," Whitney Beitzel said. "You're receiving information from perhaps, CNN en espagnol, and that's wonderful, but it's at a national level … you're not getting local stuff."
After joining the effort, Whitney Beitzel translated lots of text, but she also made video and audio recordings for the vision-impaired and illiterate. She figured she'd "make it as accessible as possible" to reach more people. She also pointed out the difference between interpretation and translation: An interpreter interprets speech in real time, while a translator translates written messages.
Separately from the Rapid Response Team, Whitney Beitzel also translated announcements from Gov. Ralph Northam (D). This meant stopping whatever she was doing — often, her lunch break — to watch the governor's announcements live. Within 30 minutes of his speeches, she'd have a list of bullet points translated into Spanish, ready for distribution.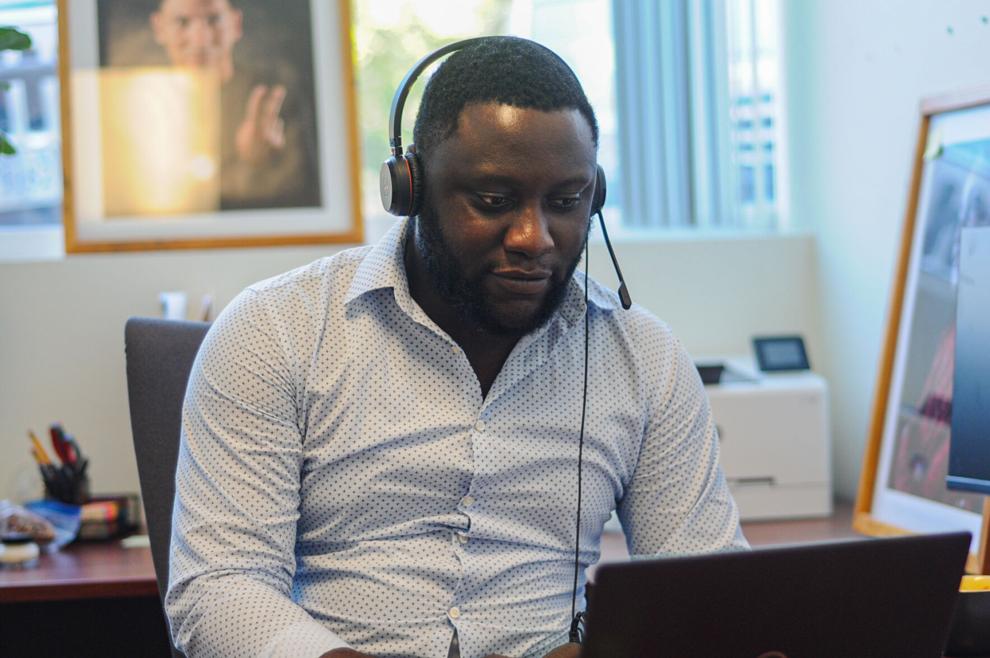 Rodrigue Makelele is another big figure in the refugee community. He's the vice president of the Congolese Community of Harrisonburg and the Virginia refugee organizer for Church World Services, an organization which aims to help refugees become self-sufficient in their new homes. Makelele said he works to promote welcoming policies and attitudes toward refugees and immigrants.
As part of the Rapid Response Team, Makelele's specialty was making videos and infographics. He recorded videos for the city's social media pages informing people of where they could get vaccinated, what to do if they had COVID-19 symptoms and how to get tested for the virus.
Although pandemic news has calmed down as the world has somewhat learned how to cope, for several team members, like Alsaadun and Makelele, the translation work is ongoing.
"It's just like any other essential work, to be able to support people who have to make decisions about their health," Makelele said. "They need to be able to get the message in their language … If the message is not clear enough, people can make a lot of mistakes."
Behind the scenes
Whitney Beitzel was trained to interpret in difficult situations, from courtrooms to hospitals. She said she's able to work in high-stress moments and decompress later, and she can keep herself detached from the messages she's interpreting — but the pandemic didn't allow for that.
"You translate quickly, put it out, and then it hits you that this is happening and this is what you're having to tell people," Whitney Beitzel said. "We're all kind of trained to do this, but nobody's prepared to live through a pandemic."
As an interpreter, Whitney Beitzel said, her job is to be a "telephone" — there's no time to think and reflect on what she's translating. For the past 18 months, though, she's translated messages about the pandemic while living through it. Because it had an impact on her own life, she said, it was difficult to detach herself from the message.
"[Usually] you're not personally involved … but in this case, you are involved while translating rates and numbers and hotspots," Whitney Beitzel said. "This is not for somebody else far away, you know? This is my community."
In return for their sacrifice, the Harrisonburg Rapid Response Team won the 2020 Local Champions Award, given out by the Virginia Municipal League.
Alsaadun didn't expect their work to be recognized.
"I cried when I saw that," Alsaadun said. "I felt that the thing that we did over the past year during the pandemic, that was recognized and people are [appreciative]."
In addition to translating public health messages, Makelele also went to COVID-19 testing and vaccination sites to interpret. He said he'd explain to people where to go and what was happening as they got their noses swabbed for the virus or a needle in their arm.
"It makes a big difference," Makelele said. "You can trust. You can ask questions because if they don't speak the language, they don't ask questions; they don't know what to ask."
Parks said that from the city's perspective, the translation effort has been successful. He estimates about 70% of Harrisonburg's population is vaccinated — a number higher than the VDH's estimation of around 50%, but that includes students who live in the city but don't list Harrisonburg as their permanent residence.
Makelele remembers one couple at a vaccination and testing site who only spoke Swahili and Kinyarwanda and recognized him from his work in the community. The man was 100 years old, Makelele said, and he needed to know where to sit and what to do. They were able to get tested with Makelele's help.
"Being able to be that person that is really building that bridge between him and the nurses … that was so impressive," Makelele said. "I have that in mind still. That was amazing."
An inclusive future
Although their work with the Rapid Response Team may be nearly finished, the translators — all three of them refugees and immigrants — expressed a desire for more services like this one in Harrisonburg.
Whitney Beitzel said it makes a difference to have information translated into someone's first language ready and available. She said there's "something very subliminal" about receiving information that's "well made," and it can make someone feel more welcome, more appreciated and less alone.
"When you just can't understand and you know the information is there and you're not able to access it, it is extremely frustrating," Whitney Beitzel said. "There's all this feeling of being left out, of feeling unimportant."
It's Whitney Beitzel's hope that someday, there can be an office that welcomes refugees and newcomers — and gets paid for it. She said that while the team members would never take money in an emergency situation like COVID-19, she hopes that in the future, Harrisonburg and Virginia establish permanent offices to do this work.
Parks said Harrisonburg is working on finding new ways to welcome newcomers. One is the city's language access plan, which will determine what city services need to be offered in multiple languages; for example, people can request an interpreter to come to city council meetings with them.
City administration is also looking at getting interpreters for public forums and translating relevant city documents, Parks said, as well as translating the city services guide.
"Right from the get-go, they arrive and they can get one of these, and we'll list everything they need to know about working with the city and the services we provide," Parks said. "We want all of those services to be available to all of our community members regardless of what language they speak."
Alsaadun immigrated to Harrisonburg with his family in 2008. He worked with the U.S. as an interpreter during the war in Iraq — a time when interpreters were heavily persecuted in the area. His father was assassinated, but Alsaadun, his wife and his children fled to Syria, then Lebanon, until they could come to the U.S. He said it's difficult for immigrants to become self-sufficient because to even get a job or get their driver's license, they have to know English.
He noted that it can take months to become fluent enough in English to take the test to receive a driver's license — and it's difficult to get to work without transportation. So, Alsaadun helped translate the DMV booklet into Arabic so refugees can get more of a head start on making their new lives.
Alsaadun said he hopes Harrisonburg continues to make an effort to reach out to refugees and immigrants.
"If they are to be connected with their residents, they have to show that connection, that they do care of them," Alsaadun said. "The least thing that they can do is having … their messages being translated to their residents who are non-English speakers."
In the meantime, Alsaadun is still focused on changing the negative attitudes and stereotypes about refugees and immigrants. They want to thrive in their communities, he said — governments just need to build better relationships with them.
"When they come here … they have a lot to give to their community," Alsaadun said. "They would love to be part of the community."
Contact Charlotte Matherly at thebreezeculture@gmail.com. For more on the culture, arts and lifestyle of the JMU and Harrisonburg communities, follow the culture desk on Instagram and Twitter @Breeze_Culture.