Mesa prepares to shuffle the district deck | News | eastvalleytribune.com – East Valley Tribune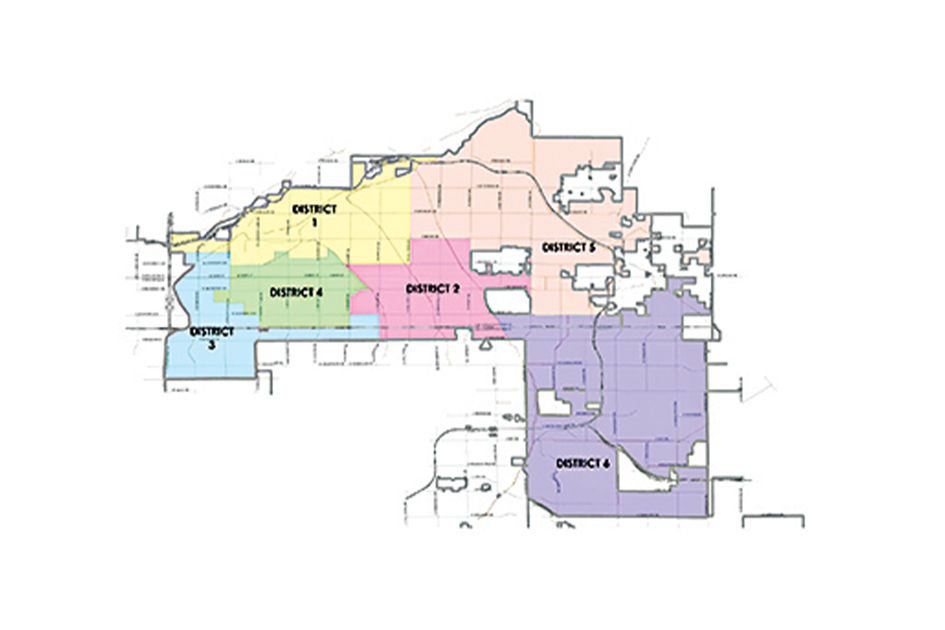 Redistricting time is fast approaching.
The city of Mesa is asking for public input on how City Council district lines will be redrawn, using U.S. Census data.
Mesa's Redistricting Commission has scheduled a series of workshops to get public input. All of the public workshops will have translation services in Spanish.
Residents can also use an online mapping tool to share what they think districts should look like at https://districtr.org/tag/mesaaz.
"All maps submitted will be carefully reviewed by the Redistricting Commission," Kevin Christopher, a city spokesman, said.
The map of Mesa's current council districts is available at mesaaz.gov/redistricting. Questions or comments on the process can be emailed to redistricting@mesaaz.gov.
The Redistricting Commission's recommended map is expected to be delivered to Mesa City Council Nov. 15.
Mesa is divided into six districts, with each voting for a Mesa City Council representative.
In Mesa, the census triggers a redistricting process. A committee will decide what the new Mesa district map will look like; Mesa City Council will have input throughout the process, but must ultimately accept what the committee of five decides.
No city council seats will be added or taken away, but boundaries for each of the six districts are likely to change.
Jeff Robbins, Mesa's census and redistricting administrator, noted a 1998 Mesa initiative that put in place an "at-large" mayor and six councilmembers elected geographically, with the city divided into six districts "equalized by population" after every census.
But, Robbins stressed, "Our redistricting is not a wholesale tearing up of our existing map.
"We're going to be working on boundary adjustments," he stressed, adding by charter, current council members must stay in their districts.
The last time the process happened, the now-booming southeast corner of Mesa was vastly different, with Eastmark and Cadence just big chunks of empty land.
Different story, now.
"Mesa is growing significantly to the southeast, you're going to have a shift in that direction," noted City Manager Chris Brady.
Estimating the city population of 518,000 and dividing by six, Brady came up with an estimate of 86,000 people per district.
"(District) 6 may be over 100,000, so it's got to shift," Brady said.
Giles, a councilman when the changes were made in 1998, recalled "the concern at the time was Mesa was growing really fast … the council all came from the established parts of Mesa."
According to the study session presentation, "redistricting preserves the general area of the district."
According to the city charter, current council members must remain in their current district.
The charter also lays out that district boundaries are established by a "five-person nonpartisan redistricting commission appointed by City Council."
At its April 29 meeting, Mesa City Council unanimously voted to approve Giles' recommendations for the 2021 Redistricting Committee: Elaine Miner, Deanna Villanueva- Saucedo, Jo Martin, Greg Marek and Dr. Christine Jiang.
Council also approved paying a consultant to make sure the committee complies with the Voting Rights Act and uses "best practices" to come to its conclusion.
Redistricting Partners, which boasts of 35 redistrictings over the last decade, was selected after a request for proposals (RFP) process. The consultant says it has "experience with large-scale, complex redistricting projects" and promises a "citizen-driven approach to redistricting."
By city charter, Mesa must complete redistricting by the candidate filing deadline of March 7, 2022.
Once the Census Bureau sends Mesa the population stats, the city will host a public hearing.
After the commission presents a recommended map in November, Mesa City Council has one shot to reject the map and ask for another one.
But the Redistricting Committee is not required to follow direction from the council members, and Mesa City Council must approve whatever final map is delivered in December.